CALL FOR ACTORS
Show: Absolutely Fabulous: episodes "Sex" and "Small Opening"
When: Wednesday, Sept. 7th, 6pm-9pm
Where: Mudpuppy's, 536 Castro St (between 18th and 19th), San Francisco, 94114
(please do not phone them; contact Christian below)
Contact: Christian Heppinstall: email: info@rbct.us (Royal British Comedy Theatre)
Show dates: Oct. 27-Nov. 19, at The Exit Main Stage. Paid.
Roles in "Sex": University Student, Hilton the Rentboy, Geoff the Rentboy
Roles in "Small Opening": Saffy 2, Serge
Casting: age ranges 20-30, any gender (we encourage drag if you dare to go there), any race, speak passable posh-London accent (no Cockney, thanks; Watch ABFAB on YouTube and listen to Edina and Patsy to get it), and actors who are punctual, diligent, dedicated and fun to work with.
ACTORS: please send your headshot and resume and your appointment time requests (up to three choices) to Christian who will email your audition confirmation.
Visit the Royal British Comedy Theatre at www.rbct.us / Email: info@rbct.us.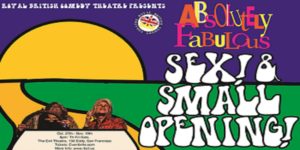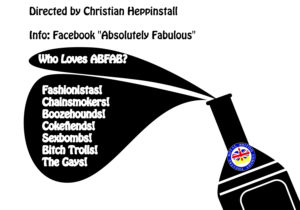 CURRENT SHOWS
SEX
Absolutely Fabulous aired on BBC the episode "Sex" as part of Season Three in 1995.
After a copy of Razzle is discovered in Serge's old bedroom, the conversation turns to sex, and Patsy persuades Edina to host an orgy. Meanwhile, Saffy and her friends plan a genetics lecture. What could go wrong, you ask? Well, it involves a VHS cassette…
SMALL OPENING
Absolutely Fabulous aired on BBC the episode "Small Opening" as part of Season Five in 2001.
Saffy's first play, based on her family life, is due to open at her university theatre. All hell breaks loose in the House of Monsoon with her parents–Edina and Justin–try to get her to cancel it… with Patsy's help, of course. Will the show go on? Come find out. Oh, and Patsy comes face-to-face with herself… kind of.