Season One:
Fat
Edina 'Eddy' Monsoon wakes up with a hangover and to a guilt trip from her daughter, Saffron, whom Eddy had promised she would stop drinking. Saffron offers her mother no sympathy, despite it being the day of her big fashion show. Edina's best friend, Patricia 'Patsy' Stone, arrives to accompany her to work, after lunch and a trip to Harvey Nichols. By the time they arrive, the guest list is looking pretty bleak: instead of Princess Diana, Princess Anne is coming. Edina rallies to cajole and swindle several celebrities into attendance, turning the show into a rousing success. Following the reception, Patsy and Eddy stop by her office drunk and reminiscing on the past. When they arrive back at Eddy's house, Saffy slams the door in her face. The next morning, Patsy and Eddy work together to trick Saffy into thinking Eddy is going to check into the Betty Ford Clinic.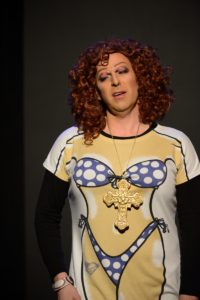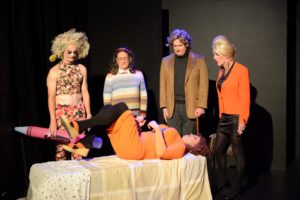 Fashion
After realizing that the majority of her clothes no longer fit her, Eddy decides that she needs to lose weight. Ignoring Saffy's advice about simply eating better and taking up exercise, she phones her private doctor in an attempt to get some weight-loss pills. Unsuccessful, Patsy enters and suggests that plastic surgery is the best method. At the office, Bubble tells Eddy to her horror that Penny Caspar-Morse is coming to visit, a slim and glamorous model who used to be known as "The Stick" and tormented Eddy about her weight. Eddy tries to exercise, but with Penny coming to town in less than a week, she allows Patsy to schedule an appointment for some liposuction to shrink Edina and make her lips bigger. After a disturbing nightmare about the procedure going horrifically wrong, Eddy goes off the idea and just decides to cover up as much of herself as she can with a large, long sweatshirt. Patsy enters and tells Eddy some good news: Penny is blind and won't know how much Eddy weighs. Later (after deciding to "Let bygones be bygones") Eddy drunkenly rants at Penny about how she ruined her life, and brags how successful and thin she has become, and grabs Penny's hands and places them on her waist showing how big she is.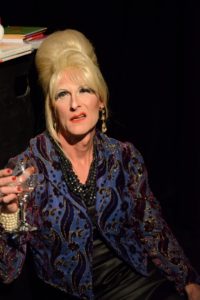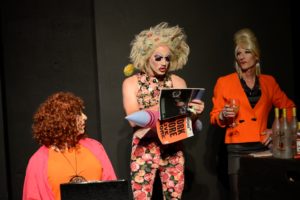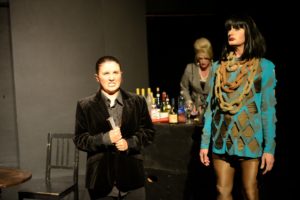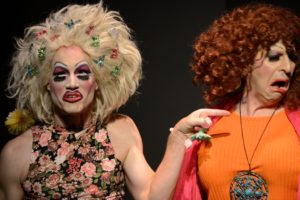 Cast: Fashion & Fat: ZsaZsa Lufthansa, Terry McLaughlin, Dene Larson, Raya Light, Marie Cartier, Craig Marotzke, J. Sykes-Iness, Steven Satyricon, Annie Larson, Ginorma Desmond, Randy Blaustein.
France
Eddy goes on holiday to a chateau in the south of France with Patsy, even though neither of them knows any French. After a boozy flight, they drive to the chateau only to discover that it's actually a rustic cottage. There's no food or wine, and a chain-smoking old Frenchman keeps stopping by but they can't understand French and try to divert him. Saffy arrives a day or two later to rescue them; Bubble comes along because she's supposed to deliver an urgent message concerning Eddy's home decorating business, but she forgets all about it. Days pass: Eddy and Patsy get drunk at a local vintage but also try some quieter activities, such as watercolor painting and table tennis, which Patsy enjoys after she refreshes herself with a little cocaine. Bubble suddenly remembers the message and Eddy panics and rushes to get home. As they prepare to leave the cottage, the old Frenchman stops by and repeats his message to Bubble, who understands perfectly: They have been staying at the wrong place, and the staff have been expecting them in the chateau down the road. Later, British Customs detains the whole party when a bag containing white powder is found in Patsy's luggage, but they are freed with a warning when the powder turns out to be 'a perfectly harmless, innocent substance'. Patsy, instead of being relieved, is horrified because she realizes she actually enjoyed playing ping-pong.
Cast: France & ISO Tank: ZsaZsa Lufthansa, Terry McLaughlin, Dene Larson, Raya Light, Marie Cartier, Annie Larson, Karen Ripley, Jeffrey Taylor, Ginorma Desmond.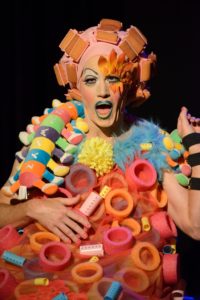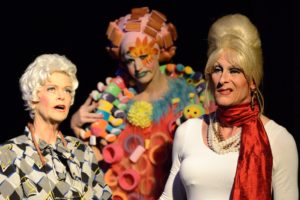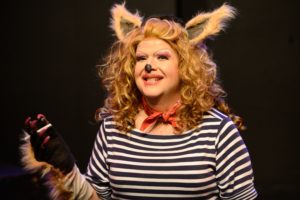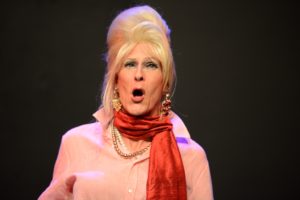 ISO Tank
In the upstairs bathroom, Patsy helps Eddy break in her new isolation tank while Saffy, in the kitchen below, works on a presentation about DNA with several classmates, preparing for her Sixth Form College's Open Day. When Patsy and Eddy come downstairs, they hang around talking loudly for so long that Saffy asks her mother why she isn't at work. Eddy explains that her dimwitted secretary, Bubble, has emerged from an occupational hypnotism program mysteriously transformed into a willing helper who works with such dedication that there's nothing to do at the office any more. When Eddy eventually does go to work, she's proved correct: Bubble is dressed smartly and offers to sort out upcoming meetings while Eddy is reduced to reading a magazine. At home, feeling rejected and useless, Eddy takes a sudden interest in Saffy's DNA presentation and begs to be invited to the Open Day. Saffy, however, refuses point-blank. Eddy throws a tantrum, but it has no effect; she then threatens to adopt a Romanian baby. When Saffy calls her bluff, Eddy phones Bubble and instructs her to send over a selection of Romanian babies so she can pick one. She then leaves the room and frantically tries to cancel the deal, but it's already too late. Later, Saffy relents and tells Eddy she can come to the Open Day after all. The next day, during the presentation, a woman interrupts and asks for a Mrs. Edina Monsoon. Eddy walks out and returns holding a baby; then more and more babies are brought in until their wails drown everything out. Saffy screams furiously for her mother to leave. Eddy then wakes up in a panic, still in her ISO tank, and realizes it was just a dream.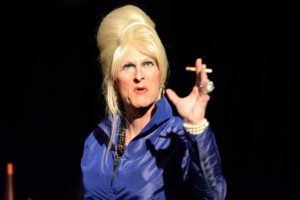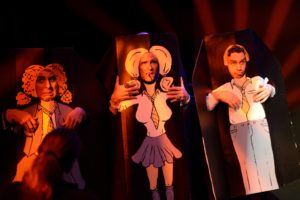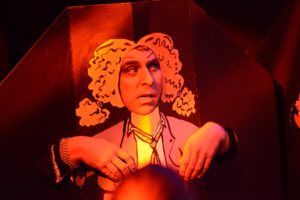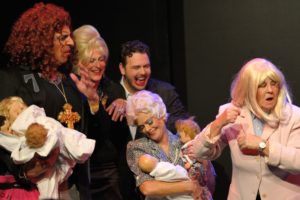 Birthday
It is Edina's 40th birthday. She isn't too pleased about it, either, and the surprise party Saffy has planned for her only makes her feel worse. Instead of a glamorous affair with fabulous guests and Japanese finger food, as she had hoped, her 40th birthday party turns out to be a family lunch, cooked by Saffy and served in the kitchen. The guest lists consists of: Eddy's two ex-husbands, Justin and Marshall, with their new lovers, Bo and Oliver; Gran; Saffy and Patsy. The birthday girl behaves very badly indeed, switching between self-pity and spite, and soon she provokes Oliver, her least favorite guest, into making an angry exit. Justin, Marshall and Bo stoically remain, however, and while Eddy is upstairs getting stoned with Patsy the men compare notes about their alimony payments and realize they've both been paying for Eddy's posh house. In the end, while Eddy and Patsy sing drunkenly with a new karaoke machine, Justin and Bo lay whispered plans to cut off Eddy's alimony.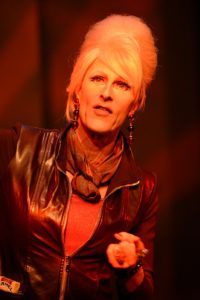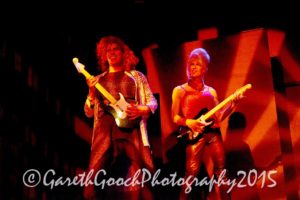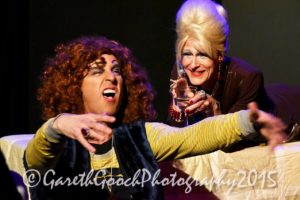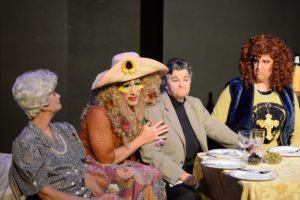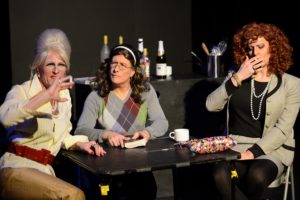 Magazine
Eddy returns home after spending the night with an old boyfriend and Patsy is not happy about it, feeling she has been put aside. As 'Executive Fashion Director' of a magazine, Patsy's rare appearance at her job requires a map to find her office. When her Editor, Magda, tells her that she will host a fashion makeover on morning television, Patsy comes to blows with her models. She then tries to persuade Saffron and Mrs. M to take their place. She uses the tale of her emotionally distant mother and the dreaded word 'please'. Saffron agrees but only if Patsy moves out of the house and allows Eddy to have a boyfriend. When appearing on the morning show, Patsy suddenly gets anxious and can only reply with "Yeah cheers, thanks a lot" to all of the hosts questions. Despite this, Patsy is impressed with her appearance after being offered the job as a weather girl. After Patsy convinces Eddy to break up with her boyfriend, Saffron storms upstairs in a tantrum, leaving a smirking Patsy realize that the story she told Saffron is actually true and she can no longer use it against her.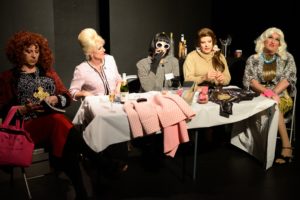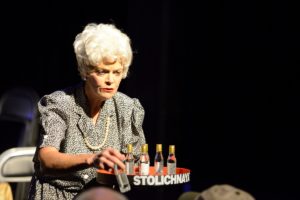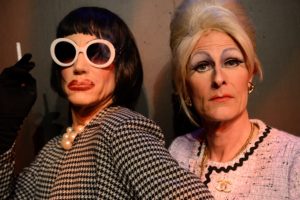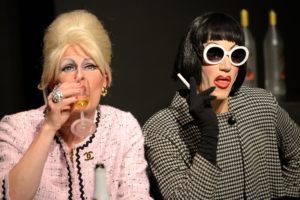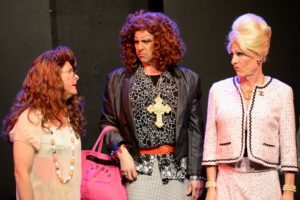 Cast: Magazine & Birthday: ZsaZsa Lufthansa, Terry McLaughlin, Dene Larson, Raya Light, Marie Cartier, Annie Larson, Karen Ripley, Ginorma Desmond, J. Sykes-Iness.
Season Two:
Hospital 
Patsy's indecent outings with an MP land her on the front page of every tabloid in the country, and if that wasn't bad enough, her age is listed as "47". This prompts her to take part in an interview with a reporter from Hello! magazine who doesn't even know who Patsy is. Patsy prepares for the interview by improvising a facelift with surgical tape, then discovers the photographer won't be along for some time. Meanwhile, Eddy has a pain in her big toe, and after calling her doctor in Switzerland, she decides to go to a private hospital for surgery. Patsy tags along, planning to get a chemical peel and some eyelid rejuvenation before the Hello! photographer arrives. At the hospital, Edina and Patsy make life hell for the nurses and staff. While anesthetized, Edina dreams that she's on her deathbed and is receiving farewell visits from idealized versions of her family and friends: her daughter has followed in her footsteps with her fashion sense and announces that she is dropping out of university to become an artist in Paris ; her ex-husband Justin still adores her and only told everyone he was gay because he could never love another woman; her mother is Germaine Greer; and Patsy who is Mandy Rice-Davies tells her how much she envies her good bone structure. Suzi Quatro also sings her a song. In an adjoining operating room, Patsy dreams of looking young for her Hello! spread. In the end, it all goes pear shaped; Edina wakes to find that her toe pains were caused by a stray acupuncture needle which worked its way from her cranium to her toe, and Patsy's skin is burned off her face. On seeing Patsy's face, Edina's mother collapses and staff attempt to restore order but Edina demands the staff take her to a NHS hospital.
Also appearing: Ginorma Desmond (Voice of Lady Penelope), Dene Larson ('Saffy'), Bird Gudmundsson (Nurse Mary), Lavale William Davis (Nurse), Lisa Appleyard ('Justin' also 'Gran')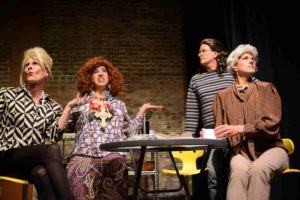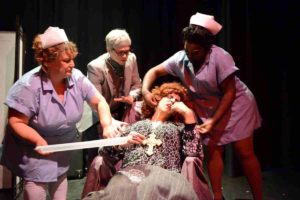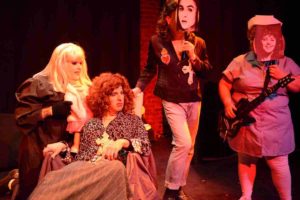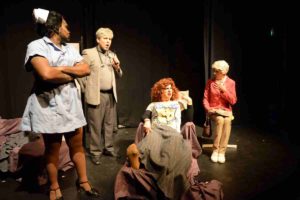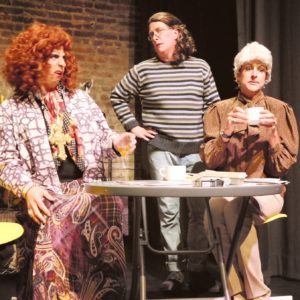 Death
Edina's father has died. Gran is taking it in her stride, Saffron is beside herself with grief, but Edina doesn't seem bothered. Eventually, the reality of the situation hits her: it dawns on her that someday she is going to die. The next day, she buys a whole lot of very expensive artwork to "bequeath to the nation". Marshall drops by with his new girlfriend, a self-help therapist who is only too keen on discussing death, until she finds out that the body is to be brought to Edina's living room for the wake. Later, while Eddy is showing Patsy her new artwork, they happen to notice the coffin in the midst of it all and wonder whether it's art. Saffron, completely fed up by her mother's selfish attitude, bans Edina from the funeral, leaving her and Patsy to drown their sorrows. Edina suddenly decides she wants to go to the funeral, and she takes Patsy along. At the cemetery, Edina stumbles drunkenly into her father's grave and Patsy falls into another open grave close by. No one offers to help, and Eddy and Patsy struggle to climb out.
Starring: ZsaZsa Lufthansa, Terry McLaughlin, Dene Larson, Raya Light. Also appearing: Lavale William Davis (Nurse), Raya Light (Sondra Lorrance), Ginorma Desmond (Vicar), Nick Leonard (Mark), Ginorma Desmond (Art Gallery Assistant)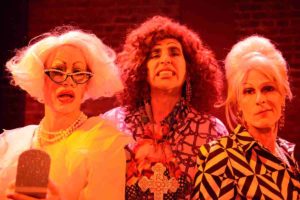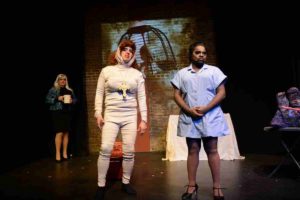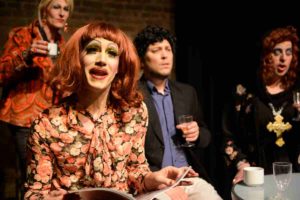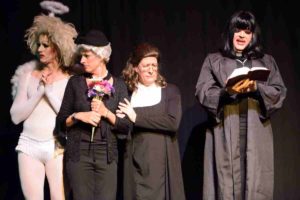 Morocco   
Edina, Patsy, and Saffron head to Marrakech for various reasons: Edina and Patsy are collaborating on a photo shoot for PopSpecs and are also looking forward to Moroccan shopping; while Saffron hopes to study the indigenous peoples for school. Upon their arrival, Patsy and Eddy go directly to a luxurious villa. There, they meet up with an old friend named Humphrey who introduces himself to Saffy by sexually harassing her. At dinner, it is revealed that Patsy spent a year living as a man until "it fell off," as Edina puts it. The following day, during a shopping trip at an immense outdoor bazaar, Patsy gets fed up with Saffy and sells her into slavery for 2000 dirham. Later, Edina and Patsy venture out into the country for the PopSpecs shoot but end up stranded in the Atlas Mountains, dirty and looking for somewhere to stop at. After wandering around for a day or two, hopelessly lost, they encounter Saffy wearing a burqa and carrying a heavy burden on her head and are rescued. They spend the last few days of their vacation drugged and unconscious while Saffy turns out to have had a few adventures on her own – including a honey-and-yoghurt experience involving Yentob (a hotel staffer) that she wants to keep secret from her mother.
Starring: ZsaZsa Lufthansa, Terry McLaughlin, Dene Larson, Raya Light. Also appearing: Adam Schaaf (Yentob), Lavale William Davis (Ali), Raya Light (Uncle Humphrey)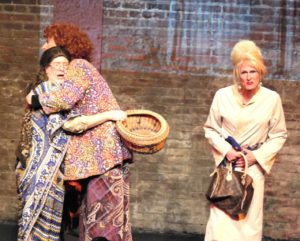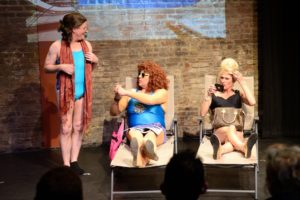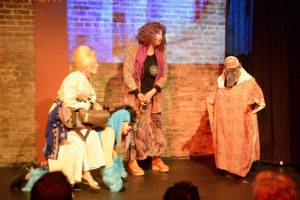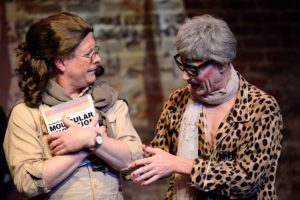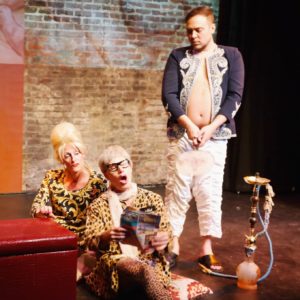 New Best Friend
Edina is in a hurry to get the house ready for the minimalist tastes of her friend Bettina and husband Max. As a result, Saffron temporarily moves into her university's halls of residence and Patsy is pretty much ignored. When Bettina and Max arrive, however, they are no longer into minimalism and turn out to be the angry, frantic parents of a newborn baby. Patsy reaches her limit with Edina's plans and storms out. Edina tries to be patient with her houseguests, but they cause so much havoc in the house that she leaves for a while. At Joe's Cafe, Edina and Patsy try to go one up from each other: Patsy gatecrashes a lunch with Zandra Rhodes and Britt Ekland, claiming that they all knew each other years ago, and Edina forces her client Lulu to have lunch with her. Both lunches end awkwardly. Back home, Saffron returns to find Edina plotting to get rid of Bettina and Max. As Saffron and Gran comfort Bettina, Edina and Max have a quick fling which can be heard via the baby transmitter in the kitchen! Bettina and Max leave, and it turns out that that was the intended result of Edina's fling. She and Patsy make up after.
Starring: ZsaZsa Lufthansa, Terry McLaughlin, Dene Larson, Raya Light. Also appearing: Adam Schaaf (Max), Bird Gudmundsson (Carmen), Britt Ekland (Ginorma Desmond), Lulu (Raya Light), Zandra Rhodes (Michelle Williams), Michelle Williams (Bettina), Bird Gudmundsson (Suzy)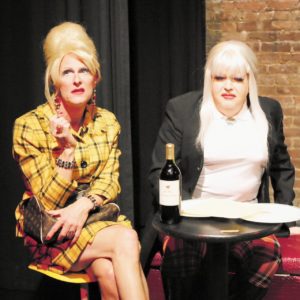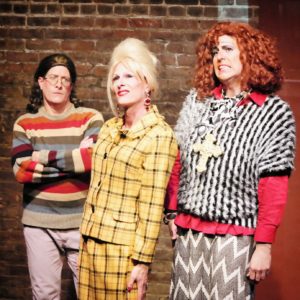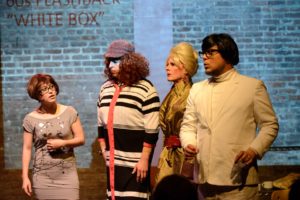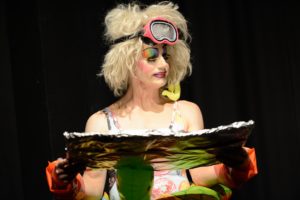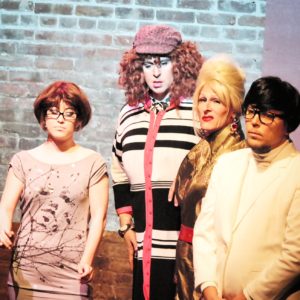 Poor
Edina finds out that both Marshall and Justin have cut off their alimony payments, thereby leaving her "poor". Dreading being forced to do community service in "urine-stinking old people's homes for the incontinent," she reluctantly agrees to economize. However, a trip with Patsy to the supermarket is more than they bargained for; on the way there, they assault a driver who beeps her horn at them, and when they get to the supermarket, they fill three trolleys with groceries and steal a case of champagne. Edina's "smaller" Alfa Romeo car gets clamped outside of Harvey Nichols, and they are later arrested for drunk driving and many other charges. On the day of the trial, Edina tries to justify her actions, but it makes no difference; in addition to a huge fine, she and Patsy are sentenced to community service. Their task is to install loft insulation into an old people's home.
Starring: ZsaZsa Lufthansa, Terry McLaughlin, Dene Larson, Raya Light. With Lavale William Davis and Lisa Appleyard and Ginorma Desmond.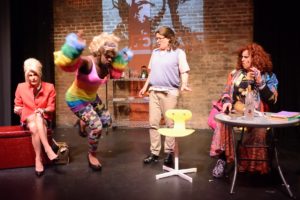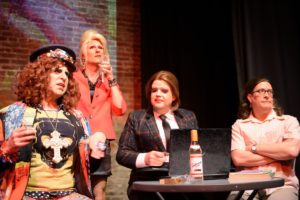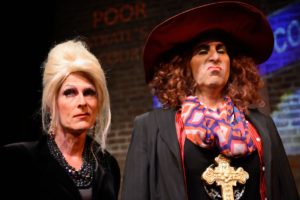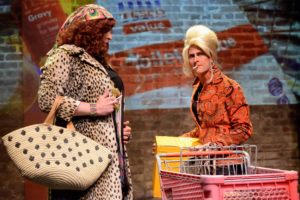 Birth
Patsy causes a fire in the kitchen by falling asleep with a lit cigarette. The following day, Edina considers a new look for the kitchen as well as her bedroom. The center of life in the Monsoon house soon shifts to the living room, where Saffron is planning on having a friend over for a study session on the beginnings of life, though it is later clear that she has far more erotic plans. Edina and Patsy, who are supposed to go out later, want to hang around for the meeting, but everything changes when Gran accidentally locks all three inside the room. As they are shut inside, they exchange stories about their own births: Saffron was supposedly born on a carpet of roses, Edina's birth was all about sterilization, and an abandoned Patsy entered the world via her mother's Bohemian lair in Paris. Gran unlocks the door, and Edina and Patsy leave. The episode ends with a flashback to Edina planning on giving Saffron up for adoption.
Starring: ZsaZsa Lufthansa, Terry McLaughlin, Dene Larson, Raya Light. Also appearing: Bird Gudmundsson (Nurse), Raya Light (Patsy's Mother), Ginorma Desmond (Fireman),  Lavale William Davis (Nurse), Ginorma Desmond (Dancer).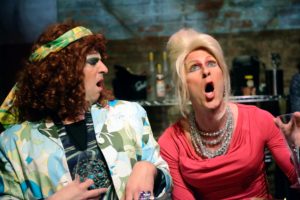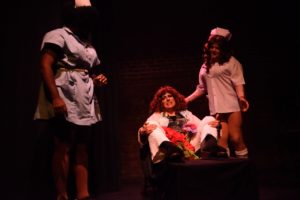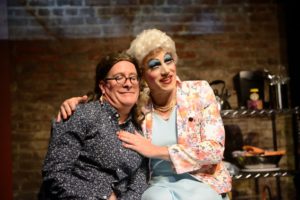 Holiday 2015 Episodes:
Cold Turkey (Christmas)
For the first time ever, Edina has agreed to stay home and spend Christmas with the family. Edina typically goes overboard by buying a huge tree and tons of gifts. Patsy is very upset that she cannot go away on vacation with Edina as they do every year, as she hates Christmas. Patsy has a flashback of unpleasant Christmas memories of her childhood. Someone somewhere sticks a pin in a Patsy voodoo doll, and she collapses in pain beneath the Christmas tree. Although Edina and Saffy ignore her, John insists that Patsy needs to go to the hospital. Once at the hospital, the doctors tell Edina that Patsy is very sick and that she may die. Edina and Saffy return to the house to continue their Christmas celebration. In the middle of the night, Patsy's estranged sister Jackie arrives to visit her. The following day, Edina and Saffron drop by only to learn from a nurse that Patsy has died, only they find out that it turns out to be Jackie instead. At Christmas lunch, Patsy shocks everyone by asking for a slice of turkey. She manages to chew and swallow, but after not eating solid food for decades she chokes on it.
Starring: ZsaZsa Lufthansa, Terry McLaughlin, Dene Larson, Raya Light. With Lavale William Davis, Marie Cartier, J. Sykes-Iness, Ginorma Desmond, Katya Smirnoff-Skyy, Peggy L'eggs.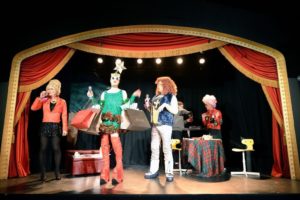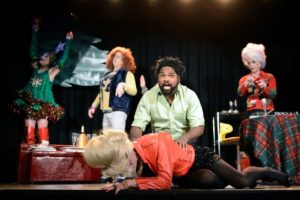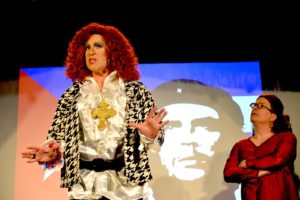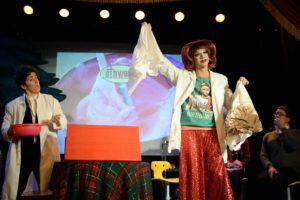 Happy New Year
Eddy and Patsy plan a fabulous New Year's Eve party, but their plans are ruined when Patsy's long-lost sister Jackie pays a call while they are preparing to go out. Jackie is an older, crueler version of Patsy, and soon everyone dislikes her except Patsy, who is stars truck by her wickedness. Patsy insists on taking her sister to the party; Jackie, however, seems reluctant to leave the house, and she asks for food and claims to be too tired to go out. Worse is to come: Jackie then confides that she is homeless and wants to stay with Eddy for a few months until she can raise money for a shelter for unwanted cats and dogs. Patsy, appalled, helps Jackie loot Edina's bedroom to raise the necessary funds but then decides to throw her out the house. She then goes to collect Edina and head for the party, but it's too late. For the first time in her adult life, Eddy faces the supreme humiliation of seeing in the New Year surrounded by her family in the sitting room.
Starring: ZsaZsa Lufthansa, Terry McLaughlin, Dene Larson, Raya Light. With Lavale William Davis, Marie Cartier, J. Sykes-Iness, Ginorma Desmond, Katya Smirnoff-Skyy, Peggy L'eggs.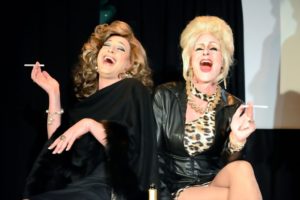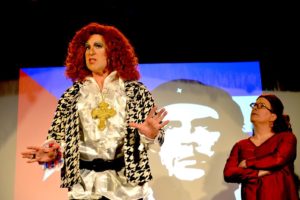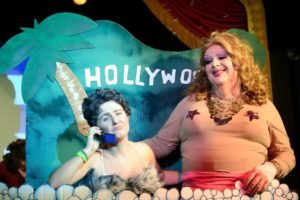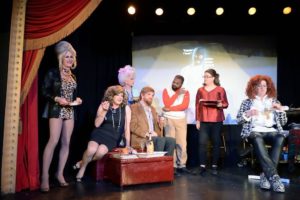 Sex
A discussion on enlarging Edina's bedroom leads to a rare visit inside Serge's bedroom. While looking around, Saffron discovers a porn magazine and tries to throw it away, but Edina and Patsy prevent her. Patsy then begins reminiscing about sex in their youth, but Eddy can't remember it, even though Patsy assures her she was there. It turns out Edina isn't sexually active and plans are made to hire male prostitutes via Edina's hairdresser Christopher for an old-fashioned orgy, which is scheduled for the same night as Saffron's "Genetics and Ethics" presentation at her university. The orgy doesn't start off well; Edina can't seem to get in the mood, and the prostitutes are none too enthusiastic either. When Patsy tries to liven things up by popping in a porn film she has brought, it turns out to be Saffron's genetics video. Fearing the worst, Edina and Patsy, accompanied by Gran, Christopher, and his drag-queen boyfriend, rush off to the university, but it is too late: to Saffron's mortification the porn video – is a home movie of one of the orgies Patsy remembers but Edina has forgotten. As everyone watches, the camera shows couples love making and a young Edina asleep in a corner.
Starring: ZsaZsa Lufthansa, Terry McLaughlin, Dene Larson, Raya Light. With Ryan Engstrom, Lisa Applyard.
Small Opening
At home, Edina and Patsy are setting up drugs. Suddenly, they hear a buzzing sound, which Patsy mistakes for a bee. It turns out to be Edina's mobile phone, and when she answers, she thinks that it's Serge calling out for help. She calls the police, and Saffron comes home to find Edina in a state of shock. It is then revealed that the phone accidentally picked up rehearsals for Saffron's play, "Self-Raising Flower", which details her life and portrays Edina and Patsy in a negative way. On the day of the premiere, Justin, Bo, Gran, and Marshall drop by to wish good luck to Saffron, at the expense of Edina. Saffron extends an olive branch of sorts by leaving a ticket for her mother; Edina is wary about attending, but eventually she and Patsy do go. The play goes well, however the cast and audience believe it to be a comedy instead of the pitiful domestic tragedy Saffy intended. Amazingly, both Edina and Patsy end up loving it (with Patsy in particular enjoying her portrayal regardless of the fact she is played by a man). At the end, the cast welcome the real Edina on stage with them, leaving Saffron in the audience embarrassed. The next day, the girl who plays Saffron is so smitten with the real one that she offers her flowers, making Saffy distinctly nervous.
Starring: ZsaZsa Lufthansa, Terry McLaughlin, Dene Larson, Raya Light. With Ryan Engstrom, Lisa Applyard.