CALL FOR ACTORS
Show: Absolutely Fabulous:
episodes "Sex" and "Small Opening"
When: Wednesday, Sept. 7th, 6pm-9pm
Where: Mudpuppy's, 536 Castro St (between 18th and 19th), San Francisco, 94114
(please do not phone them; contact Christian below)
Contact: Christian Heppinstall: email: info@rbct.us
Show dates: Oct. 27-Nov. 19, at The Exit Main Stage. Paid.
Roles in "Sex": University Student, Hilton the Rentboy, Geoff the Rentboy
Roles in "Small Opening": Saffy 2, Serge
Casting: age ranges 20-30, any gender (we encourage drag if you dare to go there), any race, speak passable posh-London accent (no Cockney, thanks; Watch ABFAB on YouTube and listen to Edina and Patsy to get it), and actors who are punctual, diligent, dedicated and fun to work with.
ACTORS: please send your headshot and resume and your appointment time requests (up to three choices) to Christian who will email your audition confirmation.
Twitter us at https://twitter.com/RoyalBritishCom / Email: info@rbct.us.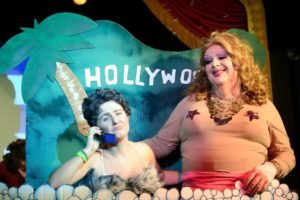 IMMEDIATE RELEASE PRESS CONTACT:
Christian Heppinstall, Executive Director ~ 415.378.1246 ~ info@rbct.us
PHOTOS & PRESS KIT
ROYAL BRITISH COMEDY THEATRE PRESENTS WEST COAST PREMIERE OF
ABSOLUTELY FABULOUS EPISODES "SEX" AND "SMALL OPENING"
TO BE DIRECTED BY RBCT FOUNDER & ARTISTIC DIRECTOR CHRISTIAN HEPPINSTALL
San Francisco, CA (OCT. 27, 2016)
Royal British Comedy Theatre/RBCT extends its two-year run of Absolutely Fabulous with the West Coast premiere of the iconic British TV sitcom's episodes "Sex" and "Small Opening" featuring scripts by Jennifer Saunders, Dawn French and Ruby Wax. Candid and cutting, these episodes explore ageing, sexual desire, and television's funniest family dysfunction found in the House of Monsoon of Holland Park, London, United Kingdom.
ABFAB's "Sex" and "Small Opening" run Oct. 27 – Nov. 19, 2016. Opening Night is Thursday, Oct. 27, 2016 at 8pm. Tickets are $15–25 and available on Eventbrite.
Directing the West Coast premiere is RBCT Founder & Artistic Director Christian Heppinstall, with costumes by Craig Marotzke, wigs by David Carver-Ford, technical direction by Brittany Mellerson, original graphics by Galen Wong, videography by BenWa and photography by Jon Bauer.
Absolutely Fabulous broke ground in the 90s, first in the UK then the US, with its in-your-face celebration of family dysfunction and perhaps TVs most co-dependent mother-daughter relationship with mother Edina and daughter Saffy. Together with her BFF–Patsy Stone–Edina shocked audiences with her raw thirst for fame, riches, men, drugs, booze, cigs, style and fashion. Sans apology. And with complete negative judgment cast by straight-laced Saffy.
Also known as ABFAB or Ab Fab the series first aired on BBC in 1992 with the pilot episodes "Fat/Fashion/France". It is based on an earlier sketch by the comic duo of French and Saunders which saw French playing daughter Saffy to mother Saunders. Absolutely Fabulous is ranked as the 17th greatest British TV show of all time by the British Film Institute. A scene from the show was included in the 100 Greatest TV Moments program broadcast by Channel 4. In 1997, the pilot episode, "Fashion", was ranked number 47 on TV Guide's "100 Greatest Episodes of All-Time" list.[5] In 2004 and 2007, the series was ranked number 24 and number 29 on TV Guide's Top Cult Shows Ever list.